APPLICATION NOTE
Compact Drive Boards
BACKGROUND
In Februrary 2021, eMagin announced an agreement with Bild Innovative Technology to offer its line of OLED microdisplay compact driver boards to eMagin customers. Under this arrangement, customers now have the option of purchasing eMagin OLED microdisplays together with compact drive boards, thereby streamlining their prototyping efforts.
Bild's products are already enabling many customers in the OLED microdisplay application space, and the addition of these products to our offering is a great step forward. We envision other additions to complement our displays in the future, as well as the opportunity for customization, to provide our customers with a simplified supply chain for a rapid ramp of their products.
These boards are also excellent candidates for production systems and custom layout or connector options are available.
Please enquire with your eMagin representative for a proposal and NRE cost on custom solutions
The boards currently available are:
| | | |
| --- | --- | --- |
| DSVGA150 | BIT1011A | DSVGA HDMI Compact Drive Board |
| DSVGA150 | BIT1011B | DSVGA BT656 & Analog Compact Drive Board |
| SXGA096 | BIT1012A | SXGA096 HDMI Compact Drive Board |
| SXGA120 r5 | BIT1013A | SXGA120 HDMI Compact Drive Board |
| 2K x 2K | EMA-200024 | 2K x 2K Compact Interface |
EXAMPLE USE FOR RAPID PROTOTYPING OF A DEMO SYSTEM
It is common to use eMagin's Design Reference Kit (DRK) as a display test and demonstration platform, but the need to use a PC as a video source, availability of 110v power, and the space/time needed for setup limits the utility and portability of such a platform.
As an example of how a portable demo system can quickly come together with a display and a compact drive board, we fabricated a simple, self-contained demo platform that can easily be carried, and quickly tailored for both the display used (color / white XL / high brightness green XLT for example) and the content being shown, e.g. color images on a color XL display or avionics / night vision style content often used with a monochrome green XLT.
The small form factor of the compact drive board is ideal for a much smaller physical demo than the DRK, and when combined with small video source, allows for extended use powered by a battery; this is perfect for demonstrations in a small handheld footprint.
The core of the demo system consists of a BIT1012A SXGA096 HDMI Compact Drive Board paired with Raspberry Pi Zero single board computer loaded with Raspberry Pi OS.

The two are connected using a drone style flat ribbon HDMI cable and powered using a conventional USB battery connected by a microUSB splitter to provide power to the drive board and Raspberry Pi Zero.
An additional feature allows for external access to the microSD card used in the Raspberry Pi for quick and easy changing of content to suit both the choice of display and customer interest.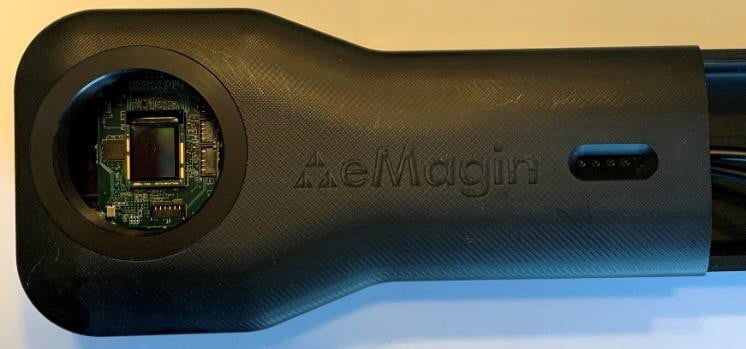 The housing incorporates a threaded collar that accepts an Edmund High Performance Microdisplay Eyepiece which provides for diopter adjustment to allow use without corrective eyewear. It also allows for easy access to the display to change out for XL, XLS or XLT versions.
| | |
| --- | --- |
| | This entire project was designed and completed within days with the longest lead-times being the machining of the lens ring & housing and sending the lens ring out to be anodized. We chose machined polycarbonate for the housing, however a 3D printed housing can be used for rapid prototyping. |
In a similar fashion, a prototype HMD or eyepiece can be quickly designed and assembled.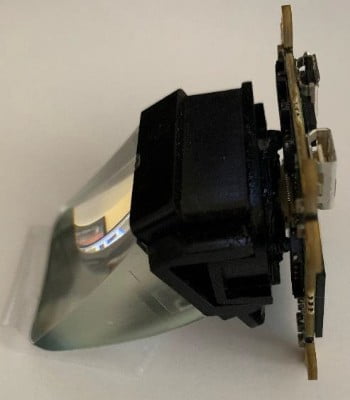 Here is an example of a freeform prism optic attached to an SXGA096 display and paired with the BT1012A compact driver board.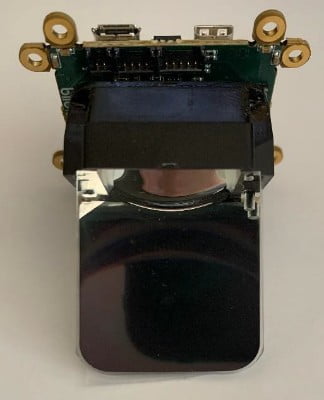 Add a housing and mount and you quickly have a monocular HMD prototype. With the addition of a bridge and some alignment for a pair of displays and you have a rapid stereo HMD prototype.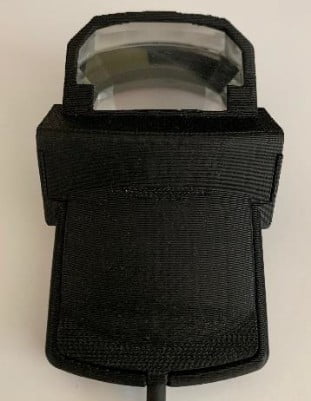 3D printed housing with a WF05 freeform prism for a small hand held demo based around an SVGA resolution display. Drive board is remotely mounted using extension cable.
These boards make excellent candidates for low rate production systems as a buy vs build option without the lead time and costs for designing and debugging a custom board.
Parts used in the demo system:
USB battery
USB splitter cable
Drone Ribbon HDMI cable
Below you will find the details on the full range of Compact Drive Boards currently available

DSVGA HDMI Compact Drive board

Low Power: < 1W (less OLED)
Digital RGB Video Interface
DVI, HDMI (no HDCP): 24bRGB
Monocular: 1 OLED Channel
Supported Video Timing Format
User-selectable Control Options
Continuous Image Optimization
Mechanically Centered OLED Image
Power Enable / Disable Feature

Rapid start-up
Ultra-Low-power disable

User-configurable Mounting Features (Tabs)
Industrial Temperature Range

DSVGA BT656 & Analog Compact Drive board

Low Power: < 1W (less OLED)
Monocular: 1 OLED Channel
Digital RGB Video Interface

Analog: SDV: Y, CVBS, YC (S-Video)
Digital: 8-bit: Y, BT.656 (YCbCr4:2;2)

Video Timing Formats

Monochrome: (Analog / Digital)NTSC, PAL, VGA, SVGA
Color: (Analog) NTSC, PAL

User-selectable Control Options
Continuous Image Optimization
Mechanically Centered OLED Image
Power Enable / Disable Feature

Rapid start-up
Ultra-Low-power disable

User-Compact / Low-Profile Design
User-configurable Mounting Features (Tabs)
Industrial Temperature Range

SXGA096 HDMI Compact Drive board

Low Power: < 1W (less OLED)
Digital RGB Video Interface

DVI, HDMI (no HDCP): 24bRGB

Monocular: 1 OLED Channel
Supported Video Timing Format
User-selectable Control Options
Continuous Image Optimization
Mechanically Centered OLED Image
Power Enable / Disable Feature

Rapid start-up
Ultra-Low-power disable

User-configurable Mounting Features (Tabs)
Industrial Temperature Range

SXGA120 HDMI Compact Drive Board

Low Power: < 1W (less OLED)
Digital RGB Video Interface

DVI, HDMI (no HDCP): 24bRGB

Monocular: 1 OLED Channel
Supported Video Timing Format

VGA, SVGA, XGA, SXGA, HD (720p)

User-selectable Control Options
Continuous Image Optimization
Mechanically Centered OLED Image
Power Enable / Disable Feature

Rapid start-up
Ultra-Low-power disable

User-configurable Mounting Features (Tabs)
Industrial Temperature Range
(-40~70C)

2K x 2K Compact Drive board

Digital RGB Video Interface
Monocular: 1 OLED Channel
Supported Video Timing Format

2048 x 2048 @ 60Hz, 85Hz or120Hz
1920 x 1200 @ 60Hz, 85Hz or120 Hz
1920 x 1080 @ 60Hz, 85Hz or120 Hz
1280 x 1024 @ 60Hz, 85Hz or120 Hz
User configurable down to 512x512 @ 500hz

User-selectable Control Options
Continuous Image Optimization
Mechanically Centered OLED Image
Power Enable / Disable Feature

Rapid start-up
Ultra-Low-power disable

User-configurable Mounting Features (Tabs)
Industrial Temperature Range