ACTUAL SIZE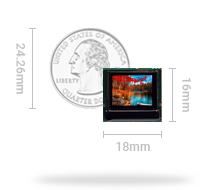 Resolution: 800 x 600 pixels
Pixel pitch: 15 micron
Interface: 24 bit parallel & BT-656
DSVGA
ACCESSORIES

Design Reference Kit


Design Reference Kit


5' Cable Assembly
eMagin Development Boards currently have long to very long lead-times due to the current semi-conductor shortages. For rapid solution capabilities for concept development and prototyping customers may contact the suppliers listed below.
---
The DSVGA microdisplay active array is comprised of 824 x 624 square pixels with a 15-micron pitch and a 75% fill factor. An extra 24 columns and 24 rows (beyond the 800 x 600 main array) are provided to enable the active DSVGA display to be shifted by steps of 1 pixel in the X and Y directions for temporal dithering or optical alignment purposes.
Each full pixel is laid out as three 5 x 15 micron identical sub-pixels, which together form the 15-micron square RGB color group. Three primary color filter stripes are applied in alignment with the sub-pixels on a white-emissive OLED layer to form the color display.
The DSVGA is well suited as for use in Night Vision Systems especially those using BT656 camera. It also provides an upgrade for existing SVGA+ systems capable of using the same optomechanical designs while providing better image quality and lower power.